Recommended Autumn Leaf Spots by UU Hokkaido
---
Autumn leaf spots near Asahikawa Airport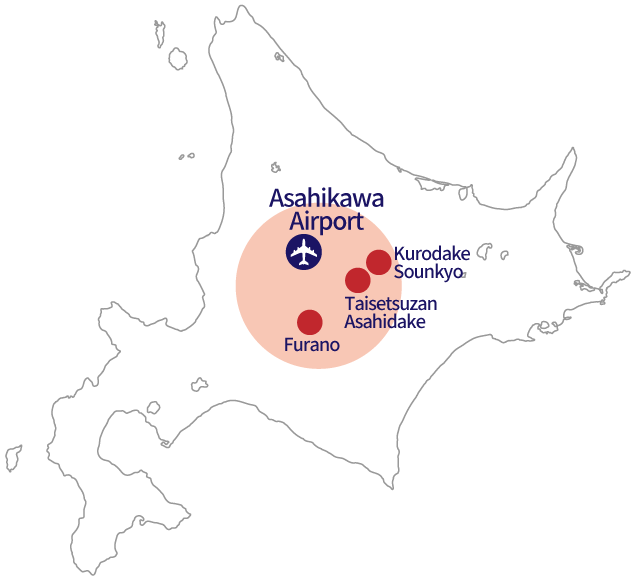 Furano
Autumn Foliage Viewing in Biei, Furano
Furano City
Please check out Furano walking MAP. Speaking of autumn foliage in Furano City, you can take a ride on ④ the Furano Ropeway and see a breathtaking view from the top of the mountain (There is a ropeway at Furano Zone in Furano Ski Resort. Also, there is a gondola for winter use at Kitanomine zone).
The view from the mountaintop station is truly a panorama. You can see the flat Furano City and the surrounding mountains, and you can see the Furano Basin. Furano and Tokachi can be seen almost in front of you. Kaze no Garden" and "Ningle Terrace" located around the Sanroku Station are wonderful places to calm your mind.

Furano Area
There are many beautiful places around Furano, such as ⑨ Farm Tomita in Nakafurano Town which is famous for lavender in summer, the Patchwork Hills in Biei Town, Hokusei-no-oka, ⑧ Panorama Road, ⑬ Kanayama Lake, ⑩ Takisato Lake, and ⑤ Aoi Ike (Blue Pond), all of which are places you should take your time to visit. In autumn, the scenery changes to a magnificent view.
Please check out Furano area walking MAP. ⑤ The beauty of Aoi Ike (Blue Pond). The fir, larch, and birch trees, withered and the blue color of the pond, and the red leaves that surround them, make the pond look like it's floating. ⑥ Shirahige Falls is the source of the blue pond and the surrounding foliage and the blue color of the waterfall are beautiful. The view from the hills at ⑦ and ⑧ is an undulation of autumn leaves.
Best time to view the autumn leaves:Early October-Mid October
Spots to enjoy the autumn leaves in Furano
Print out the map and walk a trail!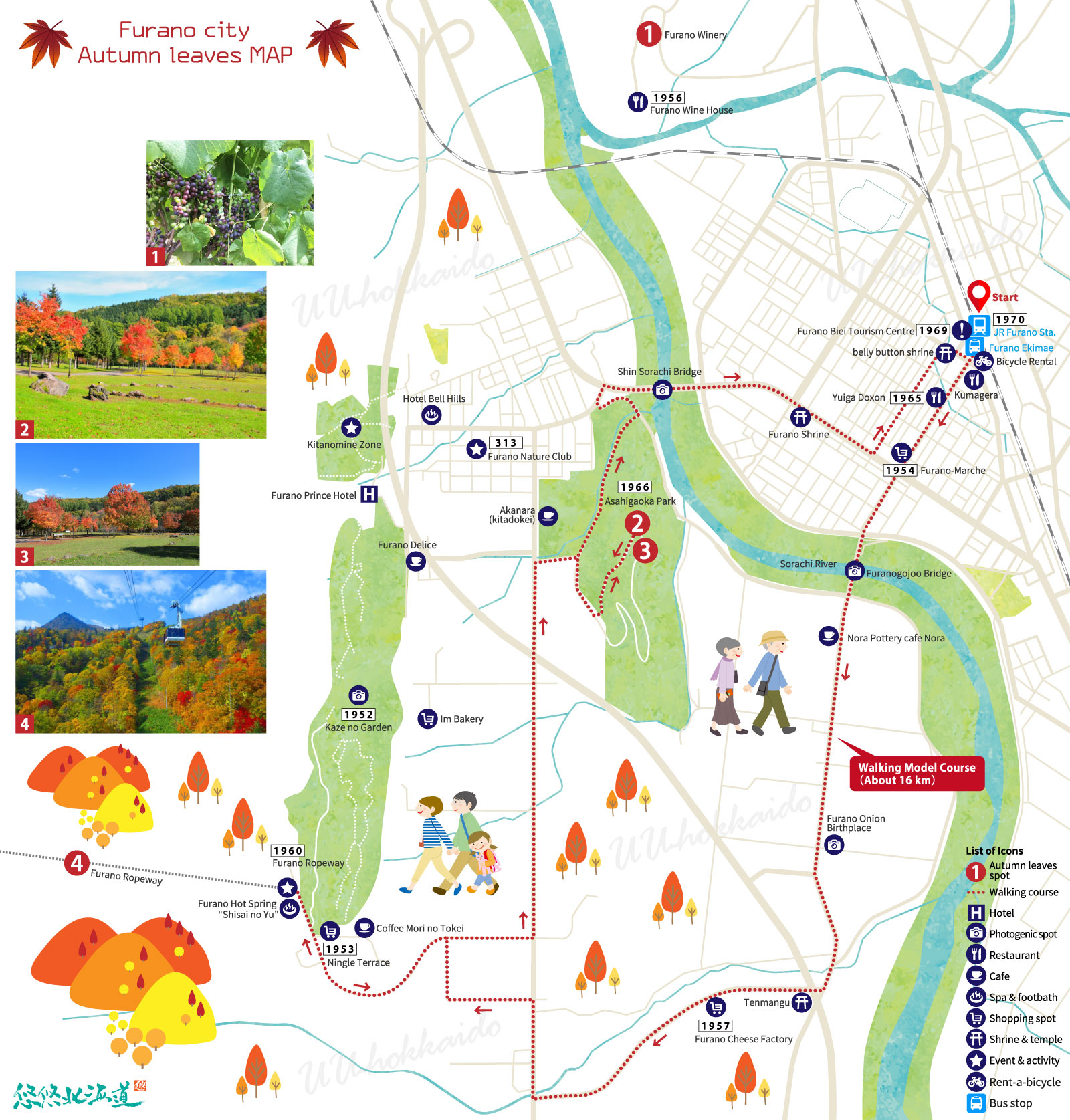 Spots to enjoy the autumn leaves in the Furano area
Print out the map and walk a trail!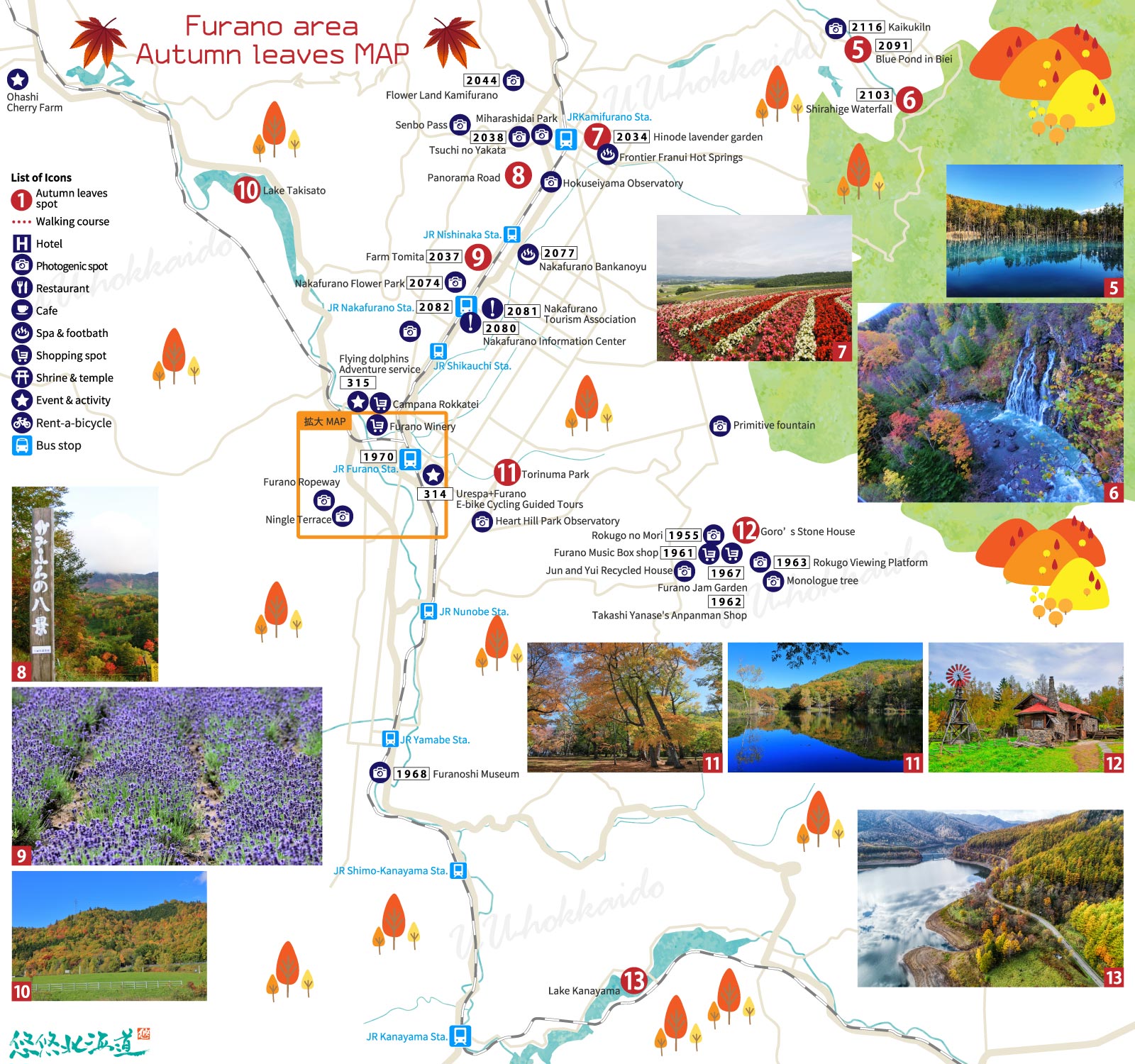 A quick detour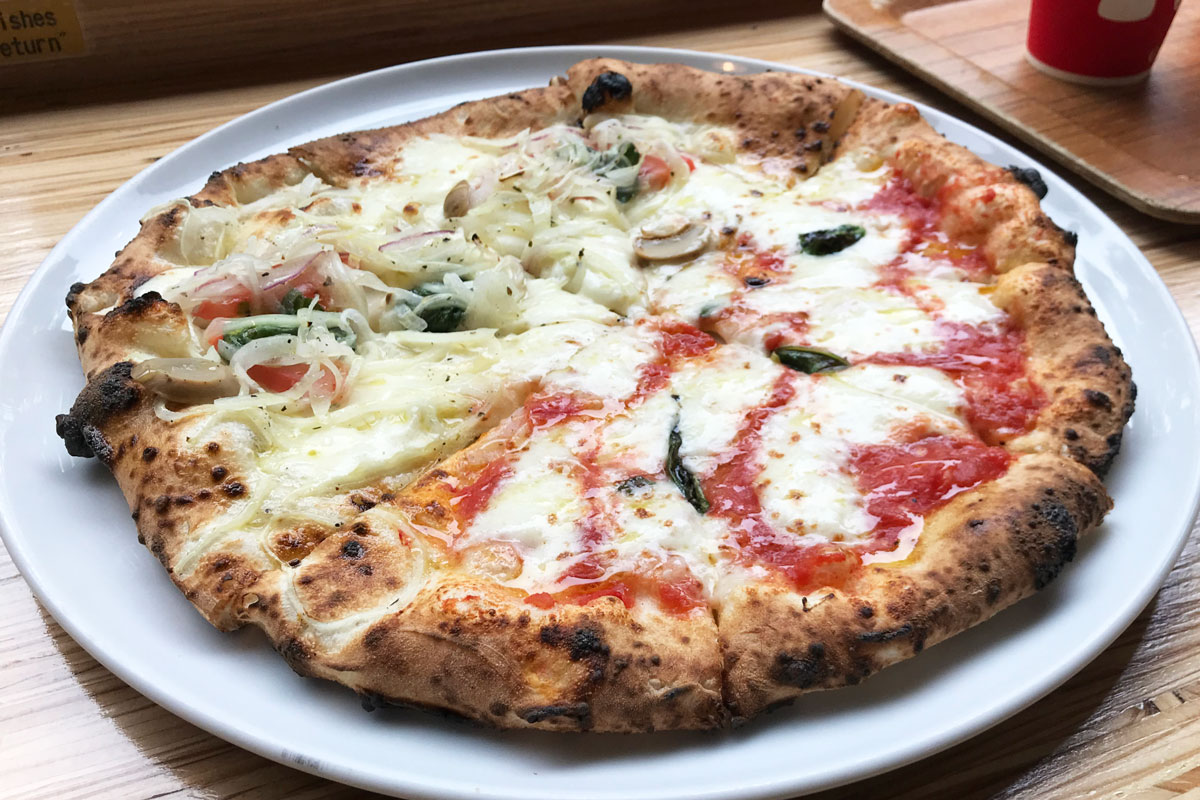 Furano-Made Pizzas
Our authentic Neapolitan pizza baked by artisans trained in Naples, Italy is very popular.
We use local flour, tomatoes and onions, and of course our original mozzarella cheese, they are baked at high temperature for a short time, making them crispy on the outside and chewy on the inside. The pizzas are filled with the deliciousness of Furano.
Furano Cheese Factory, Pizza Factory
Nakagoku, Furano, Hokkaido
【 Opening time 】 April 1-October 31 9:00 a.m. - 5:00 p.m. / November 1-March 31 9:00 a.m. - 4:00 p.m.
【 Closed date 】 Open all-year-round【 TEL 】 +81-167-23-1156 【Official Website】
Recommended day-trip hot springs in the Furano area
Access from Asahikawa Airport
【Bus】
It takes about 1 hour from Asahikawa Airport on the Lavender bus.
<Please check the bus timetable>

【Car】
Approximately 45km from Asahikawa Airport via Route 237, 55min.