Recommended Autumn Leaf Spots by UU Hokkaido
---
Autumn leaf spots near Asahikawa Airport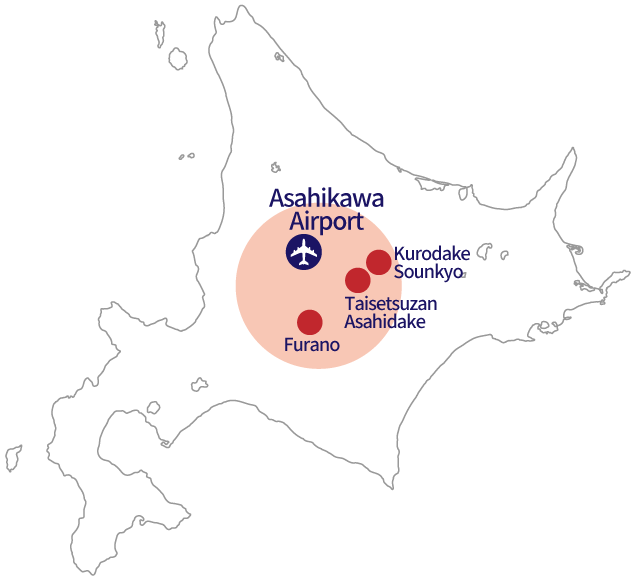 Kurodake/Sounkyo
Famous spots for autumn leaves, Sounkyo - Ginsendai - Kurodake
Please check out
Kurodake walking MAP
. From the ropeway station at the foot of the mountain in Sounkyo Onsen (670m above sea level) to the Kurodake (1984m) fifth station. Then ④ walk for about 30 minutes and take a lift and proceed to the 7th station ⑤. Here for a month from the beginning of September to the beginning of October you will find an area reminiscent of a beautiful autumn leaves campus. In September the autumn leaves appear as you go up towards the fifth station, and in October the autumn leaves can be seen soon after you get on the lift. When Sounkyo Onsen burns in the autumn leaves, the summit of Kurodake begins to wear a white snow cap earlier than anywhere else. At Mt. Kurodake, you can enjoy the natural colours of blue, white snow, autumn leaves, and green at different altitudes.
Please check out
Sounkyo walking MAP
. When you walk slowly through the hot spring town Sounkyo Visitor Center - Taisetsuzan Photo Museum - Sounkyo Shrine - and Momijidani Valley, your body responds to the freshness of the air. The air is delicious. Just taking deep breaths is enjoyable.
【Species for autumn leaves】 The photo is for reference only.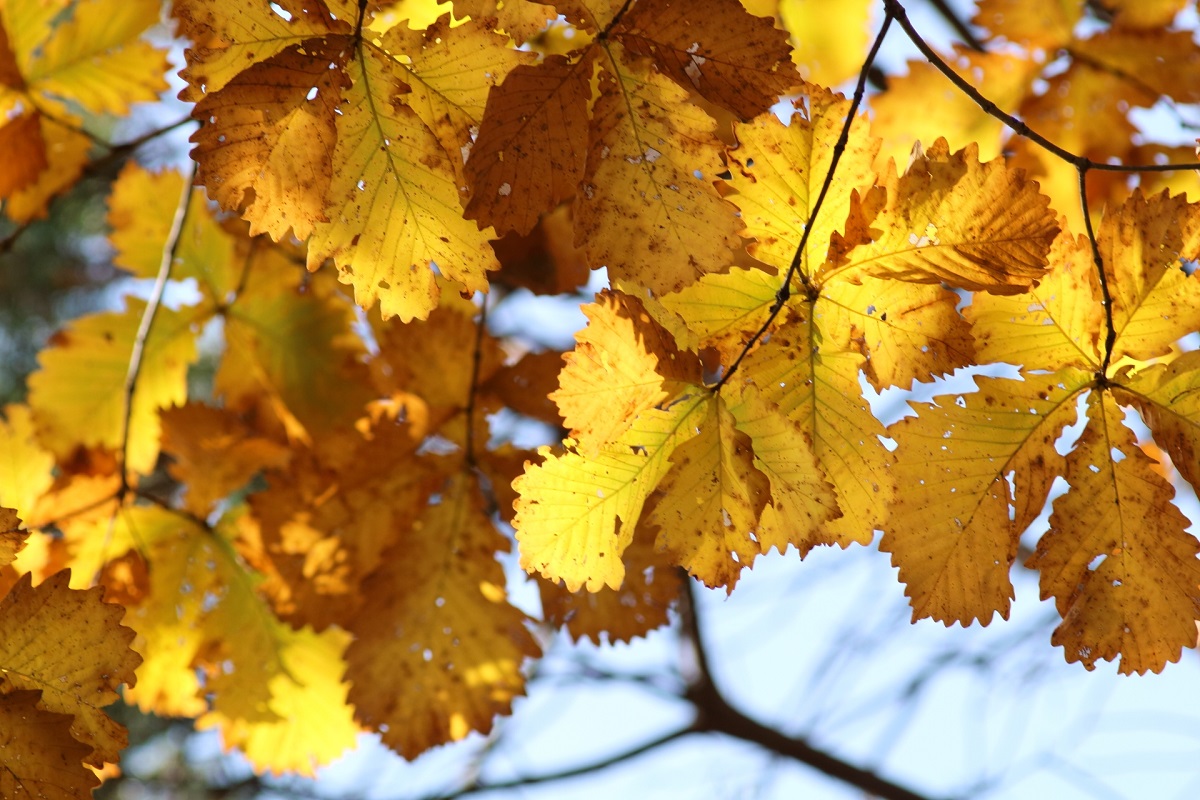 Water Oak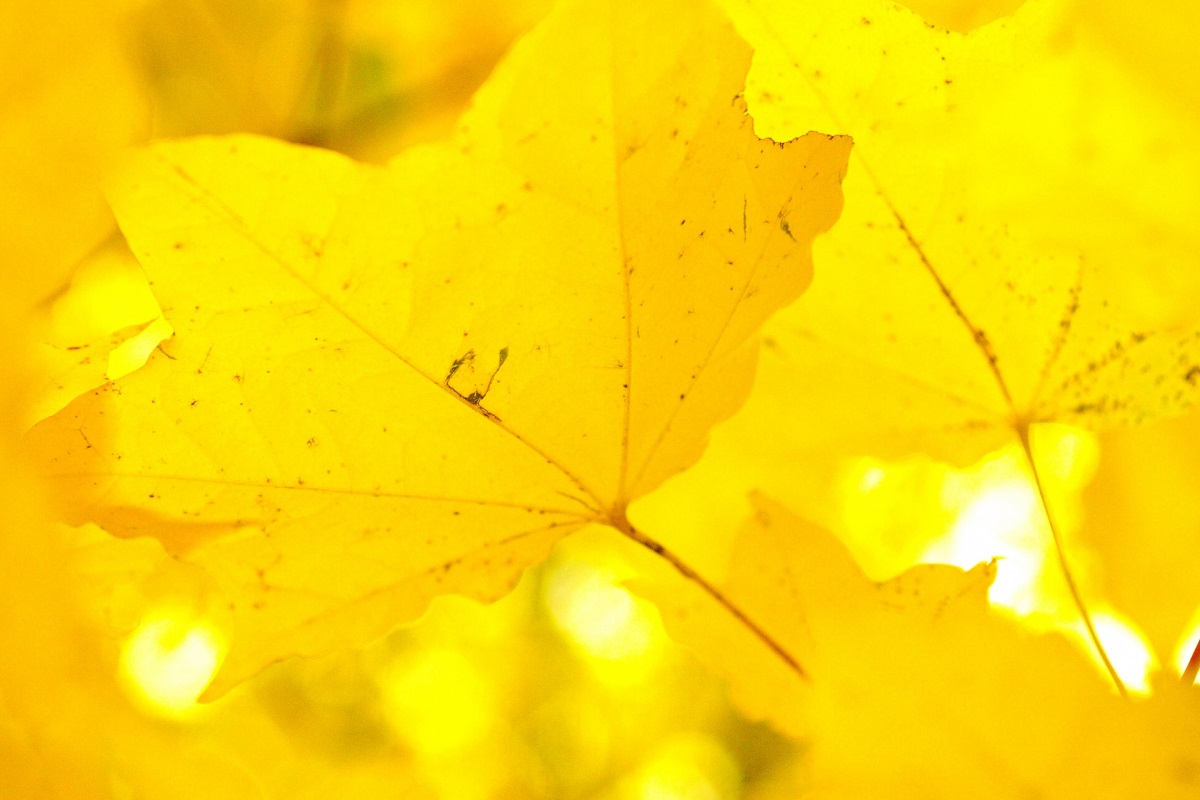 Maple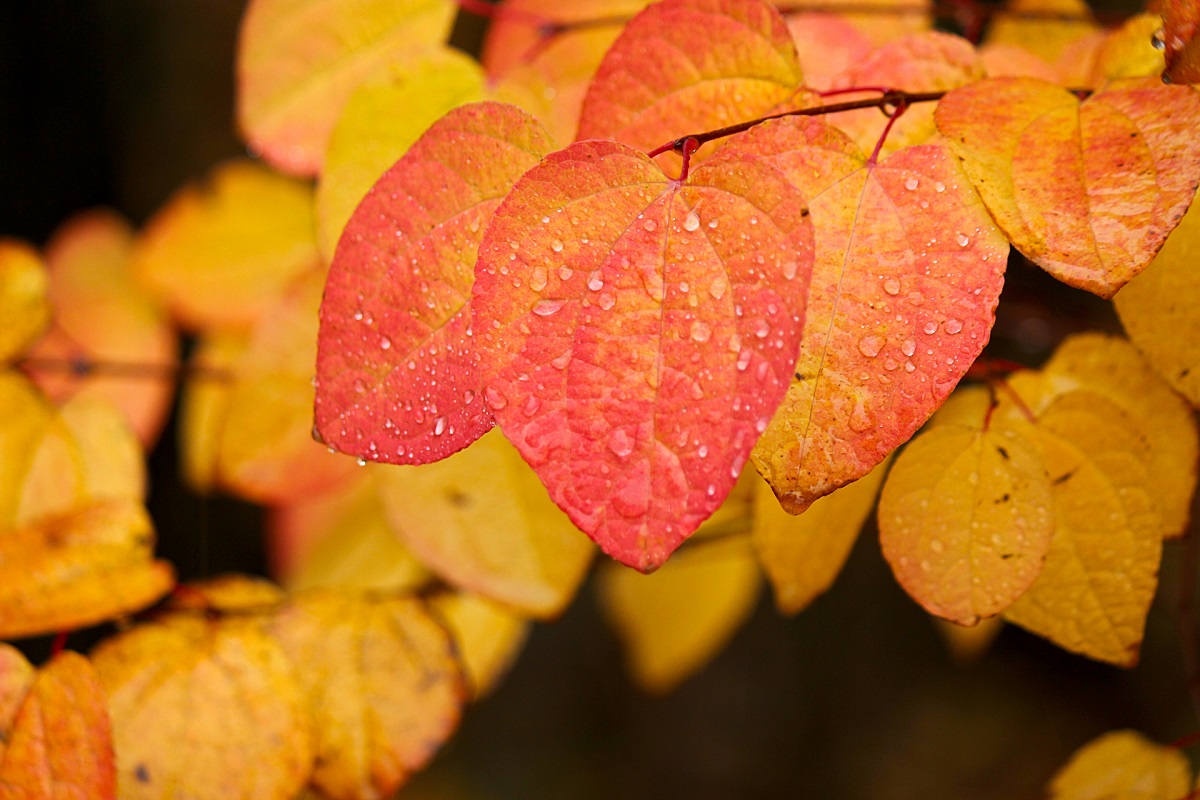 Katsura Tree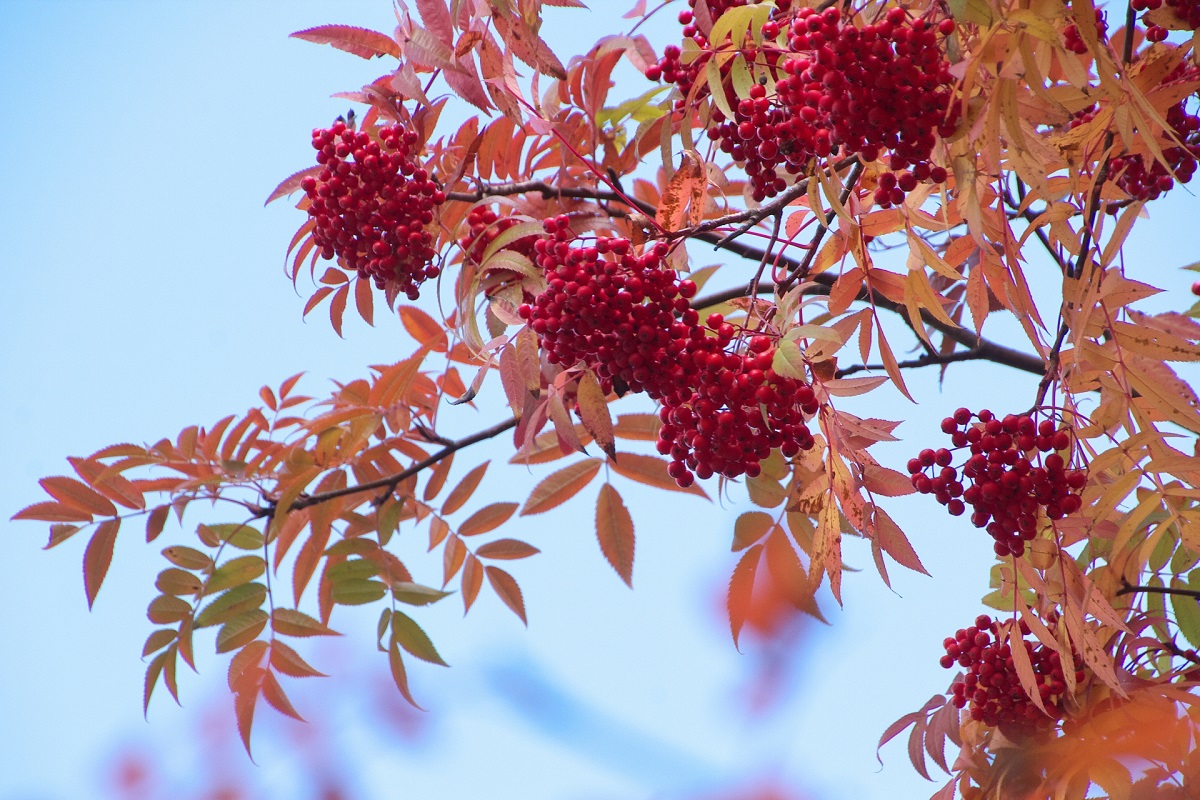 Mountain Ash
Best time to view the autumn leaves:Early September - Early October
Spots to enjoy the autumn leaves around Kurodake
Print out the map and walk a trail!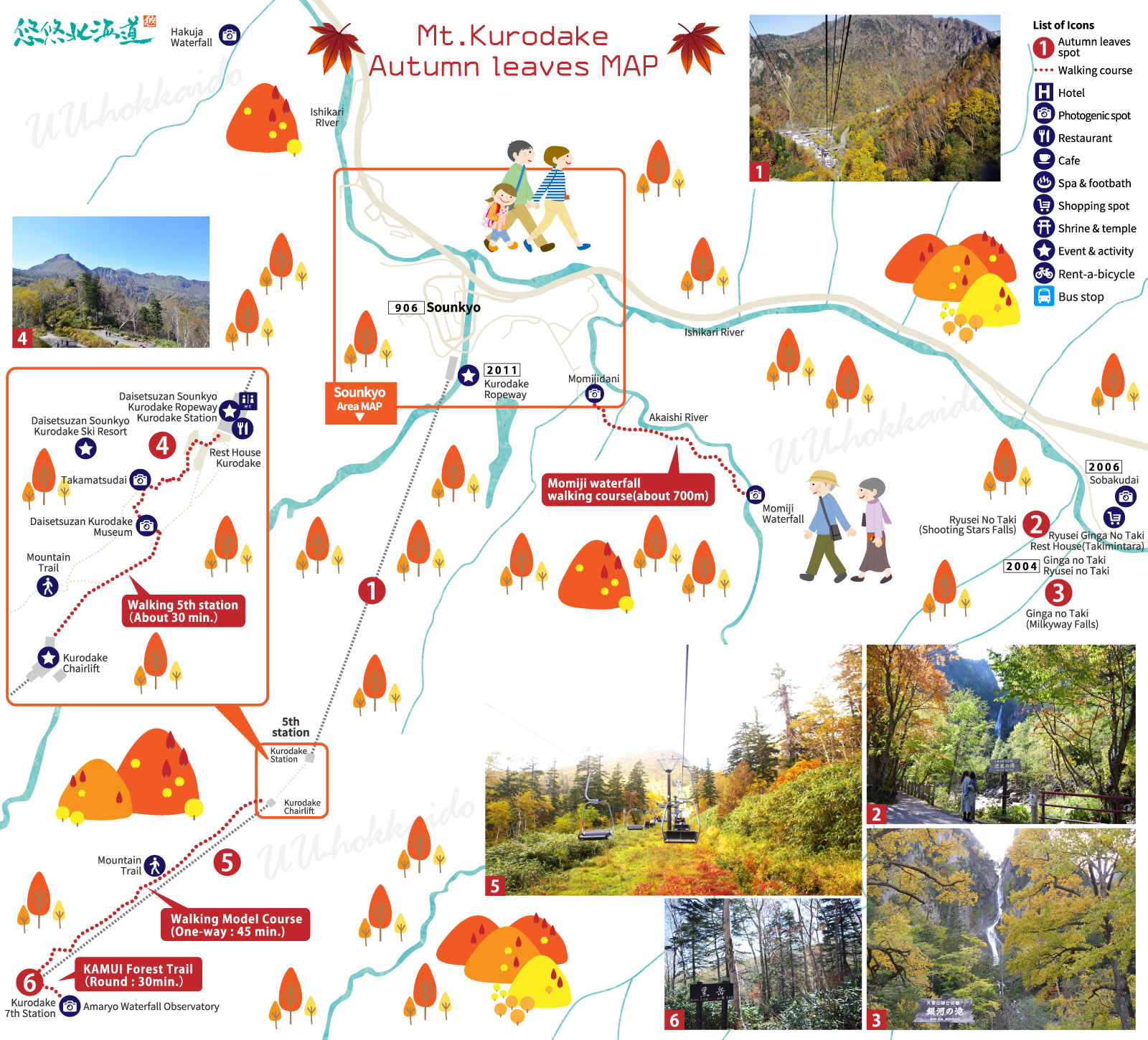 Print out the map and walk a trail!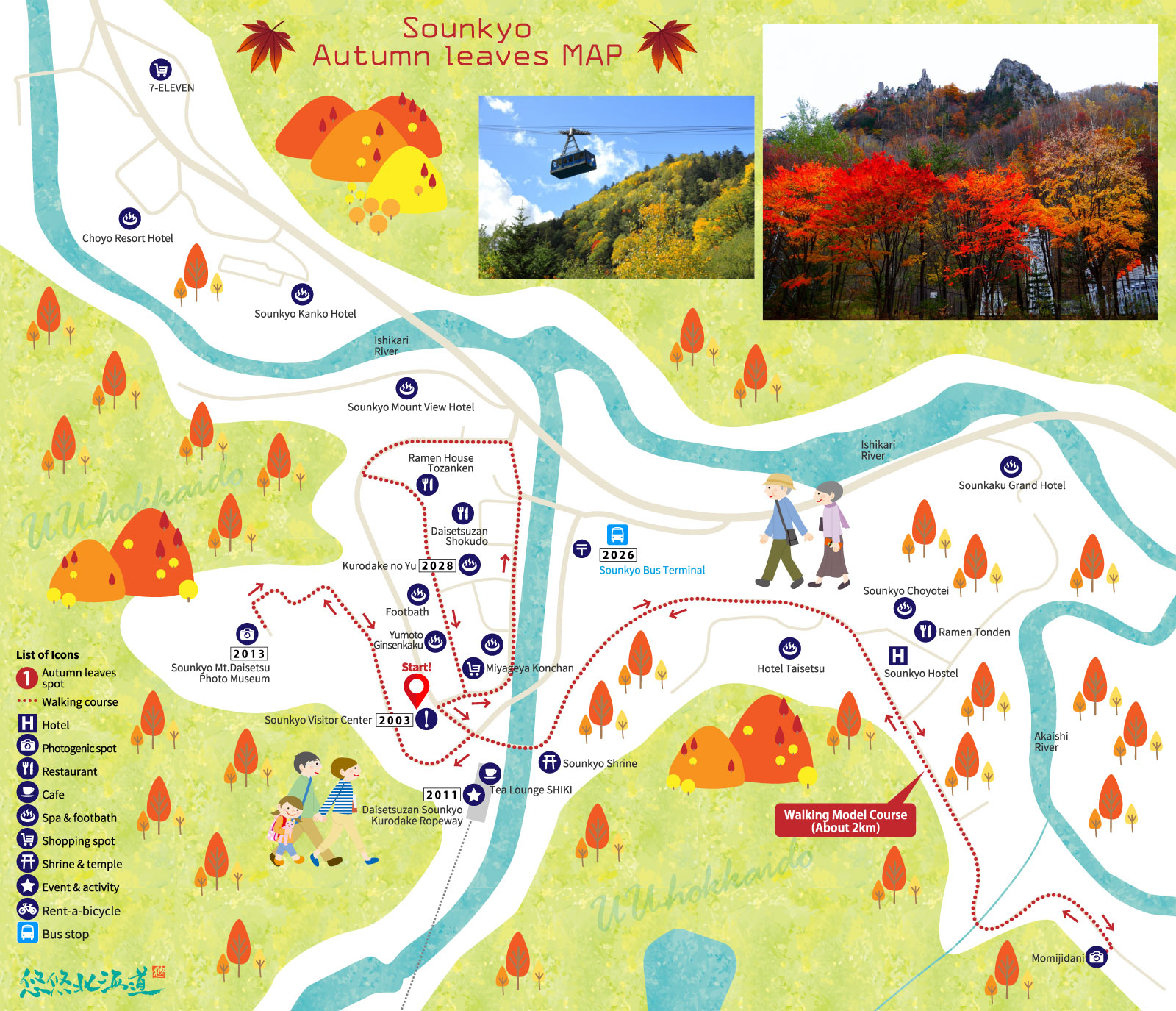 Recommended day-trip hot springs in Sounkyo
Access from Asahikawa Airport
【Bus】
It takes about 40 minutes from Asahikawa Airport to Asahikawa Station by shuttle bus, and about 1 hour and 25 minutes from Asahikawa Station to Sounkyo by bus.
<Please check the bus timetable>
【JR and bus】
It takes about 40 minutes from Asahikawa Airport to Asahikawa Station by shuttle bus, about 46 minutes from Asahikawa Station to Kamikawa Station by JR limited express, and about 30 minutes from Kamikawa Mori no Terrace Bus Touch to Sounkyo.
<Please check the JR timetable>
【Car】
Approx. 66km from Asahikawa Airport via Route 39 - 1 hour and 20 minutes