Recommended Autumn Leaf Spots by UU Hokkaido
---
Autumn leaf spots near Hakodate Airport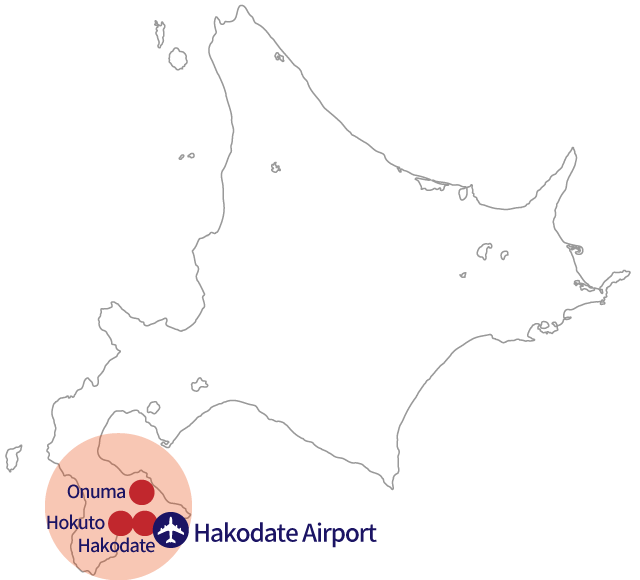 Onuma Park
The Autumn Leaves at Onuma National Park
The autumn leaves of Onuma Park, where has one of picturesque scenery in Hokkaido, are packed with many beautiful elements. The characteristic of the autumn leaves tour here is that it changes into a different scene as you progress. There are Onuma lake and Konuma lake across the railway. In Onuma lake, you can see thick autumn leaves on each small islands. They look differently with Mt. Komagatake in the background. In other words, there are many spots to see the autumn colors. Sunrise, sunset, sunny days, rain and wind are all elements for Onuma Autumn Leaves Walk. Speaking of Onuma, there is another recommendation which is Onuma cattle. How about having an experience of delicious soft served icecream? Why don't you try the walking course of about 2 hours on foot?

Please check out Onuma Park walking MAP. The starting point is JR Onuma Koen Station, International Plaza. Of course, going around the islands is including. First, go straight along the railway, cross the Tsukimi Bridge, and headto the Shirotoridai Sepat over the railway crossing. Don't feed them as it will damage the ecosystem. Then tour takes you to go around the islands. While crossing bridges; the Lake Bridge, Kinha Bridge, Hinode Bridge, and Ukishima Bridge, please search the most favorite place with colored leaves, lakes and Mt. Komagatake. Is Onuma good because it's a place where you can find your favorite place? It is strange that the memories of the trip are condensed here when the scene is burned into the eyes.

Now, let's rent a bicycle and head to the famous soft served ice cream shop. The taste becomes 10 times better after the ride. Over the shop, it is the production area of Onuma cattle, of which number is larger than the population in Onuma. There is also a quiet landscape which is another face of Onuma.
Best time to view the autumn leaves:Early October-Mid October
Spots to enjoy the autumn leaves around Onuma Park
Print out the map and walk a trail!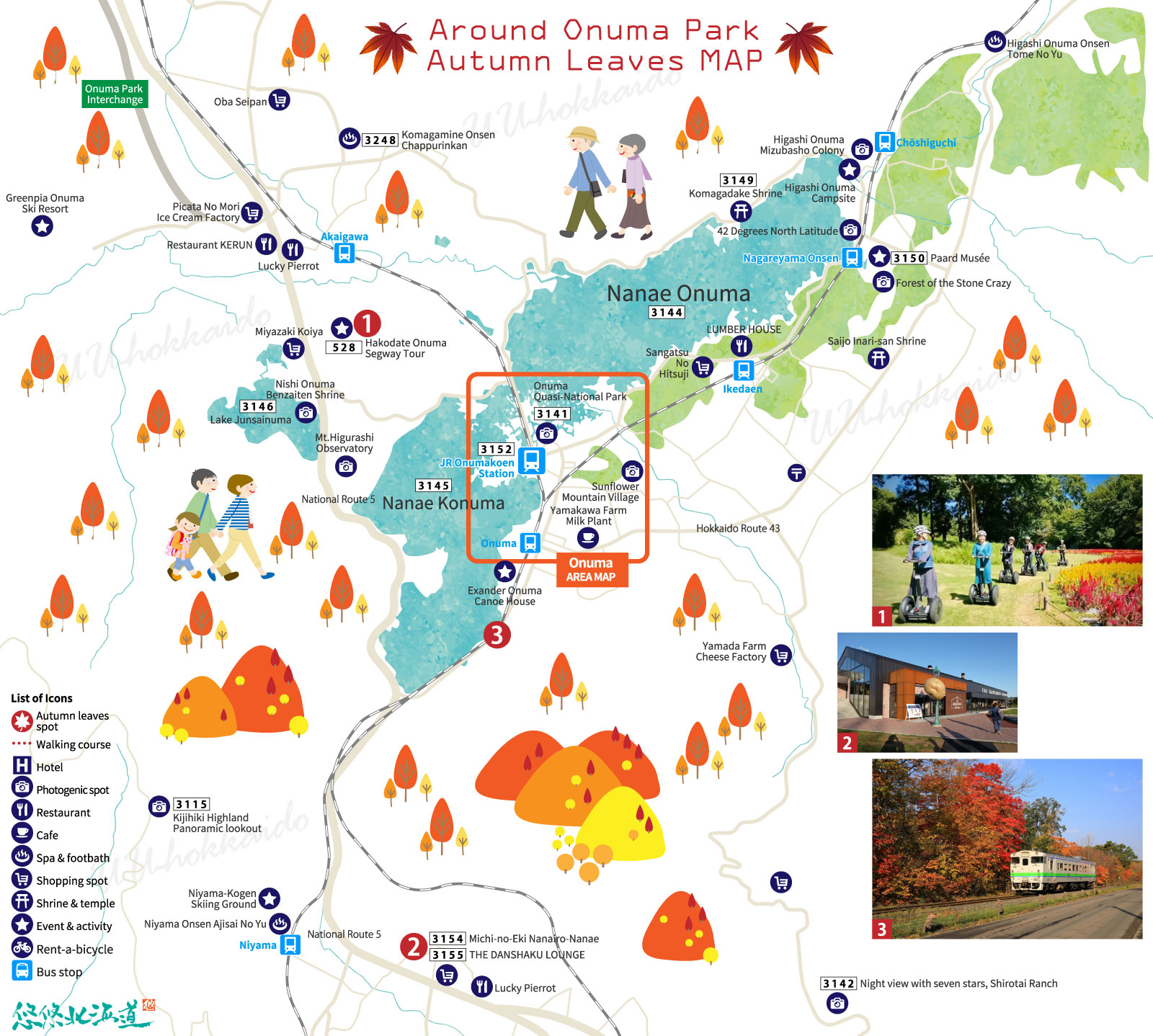 Spots to enjoy the autumn leaves at Onuma Park
Print out the map and walk a trail!
Rental bicycles are recommended for this course!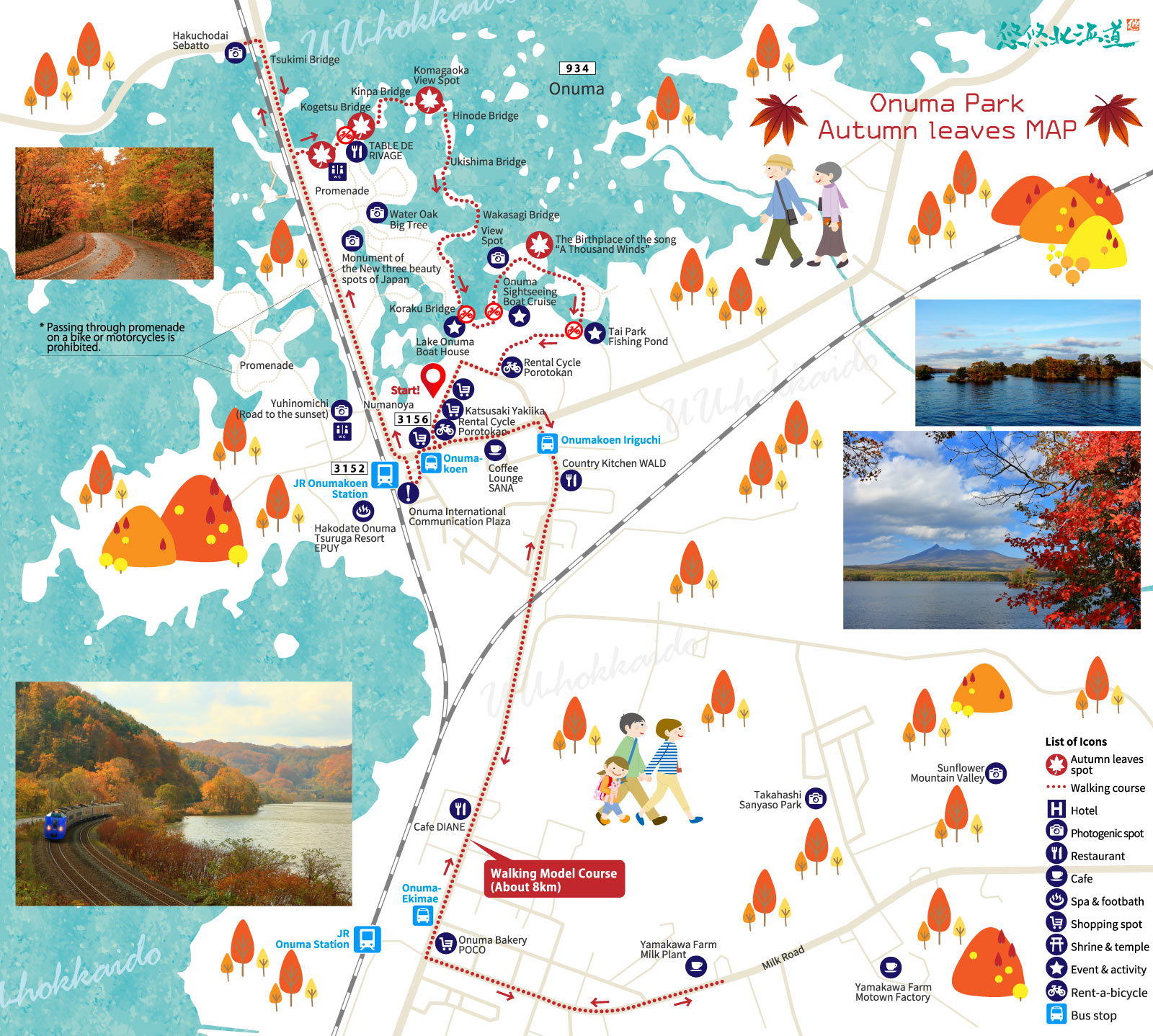 A quick detour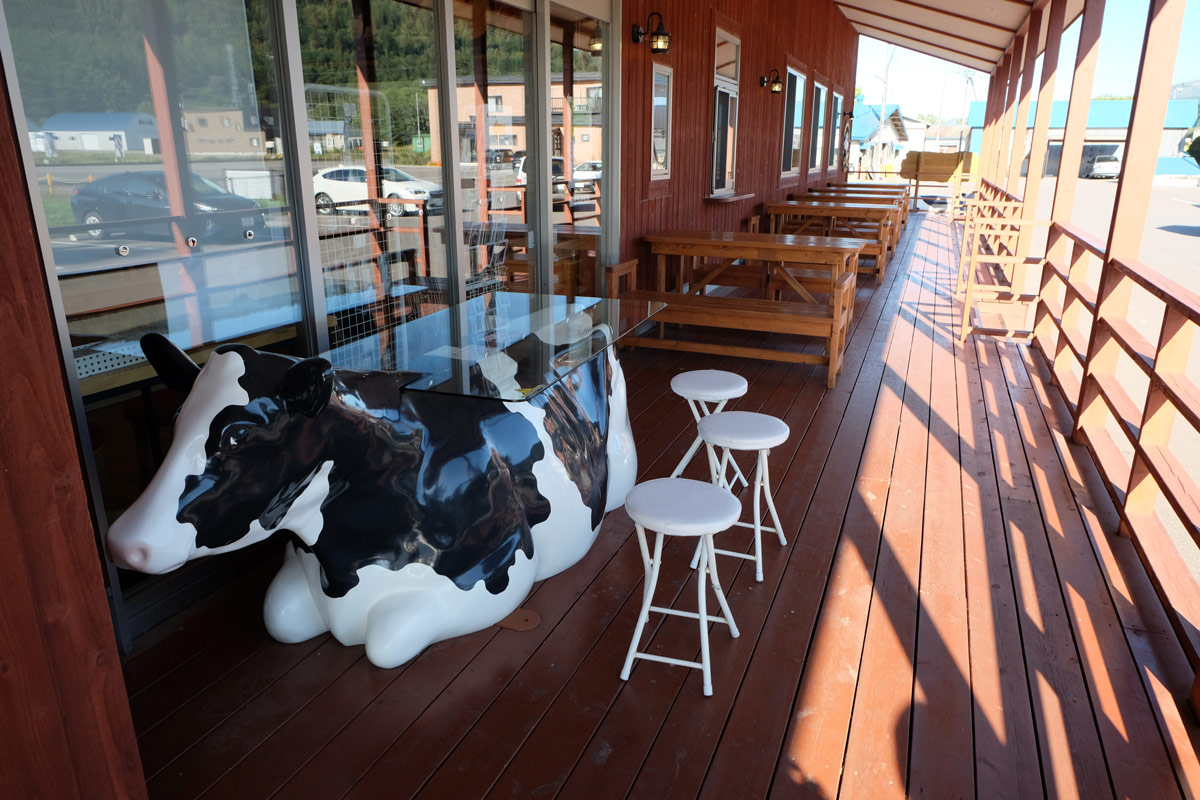 Dairy products that luxuriously use jersey milk!
There is a lineup of safe/secure, fresh and delicious soft serve ice cream and dairy products with a focus on the natural taste which is nice to your body, including the highest quality jersey milk commercialized in South Hokkaido for the first time, and coffee with jersey milk. We sell processed products such as drinkable yogurt and soft serve ice cream using fresh raw milk. Soft-serve ice cream is recommended to have in the eat-in space. Despite its richness, the aftertaste is refreshing. It is also popular with those who are not good at sweetness.
Yamakawa Ranch Milk Plant
628 Aza Onumacho, Nanae-cho, Kameda-gun, Hokkaido
【 Opening Hours 】 April-October AM9:00-PM5:00/November-March AM10:00-PM4:00
【 Regular Holiday 】 None
【 TEL 】 +81-138-67-2114 【Official Website】
Recommended day-trip hot springs Around Onuma Park
Access from Hakodate Airport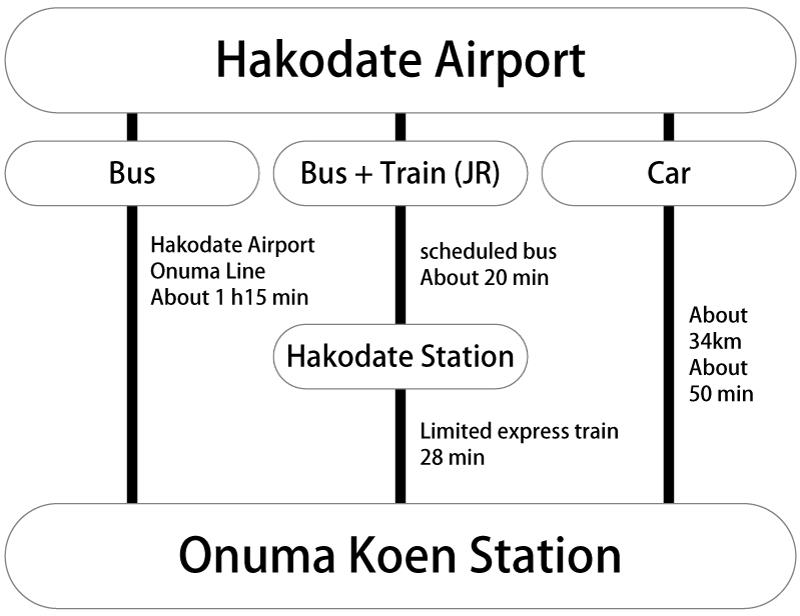 【Bus】
About 1 hour and 15 minutes by bus from Hakodate Airport to Onuma Koen Porotokan, get off at Onuma Koen Station
<Please check the bus timetable>
【Train】
Approximately 20 minutes by bus from Hakodate Airport to Hakodate, transfer at Hakodate Station, and 28 minutes by express train bound for Sapporo to Onuma Koen Station. <Please check the JR timetable>
【Car】
About 34km, 50 minutes from Hakodate Airport via Route 5.