Recommended Autumn Leaf Spots by UU Hokkaido
---
Autumn leaf spots near New Chitose Airport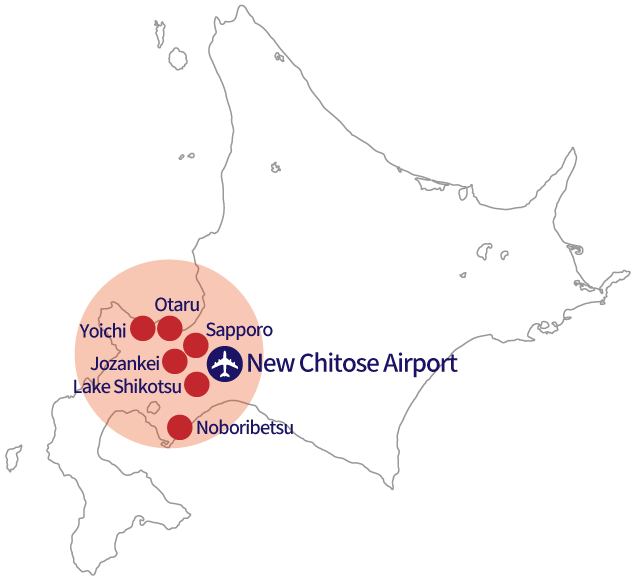 Otaru
Take a stroll through the autumn leaves in the seaside city of Otaru
Autumn colours in Otaru can be enjoyed at Mt. Tengu, ② Temiya Park, and ⑦ Otaru Park. If you are in the city (Map No. 1330), the forest around Otaru Suitengu is a scenic spot. The ① ivy entwined warehouses (Map No. 1301) along the Otaru Canal are also beautifully coloured during autumn. Let us take an autumn stroll around the seaside city of Otaru. The view of the autumn colours from the seaside of Otaru is hard to top, and during peak season, the autumn leaves look almost as powerful as the sea.
The route starts from Otaru Station, goes through the shopping arcade from Otaru Suitengu to the Meruhen Intersection, and then along the main shopping street of Sakaimachi to the Otaru Canal. Proceed along the canal to Temiya Park. The return to Otaru station is approximately 9 km. It may be a good option to travel around this route on rental bicycles.

Autumn leaves at Temiya Park
Temiya Station was the first station in Hokkaido for the railroad. The entrance to Temiya Park starts just over the hill. It is a beautiful park coloured by natural reds, yellows, and greens and overlooks Otaru Bay, the city, and the mountains. There is also a botanical garden within the park.

Autumn leaves at Otaru Park
This park sits on a hill behind the city hall. It is also a popular spot for nighttime scenic tours and the view of the city and the port is perfect from here. You can enjoy the red of maples and rowans and the yellow of the Itaya maple.
Best time to view the autumn leaves:Early October-Mid October
Spots to enjoy the autumn leaves in Otaru
Print out the map and walk a trail!
Rental bicycles are recommended for getting to Temiya Park!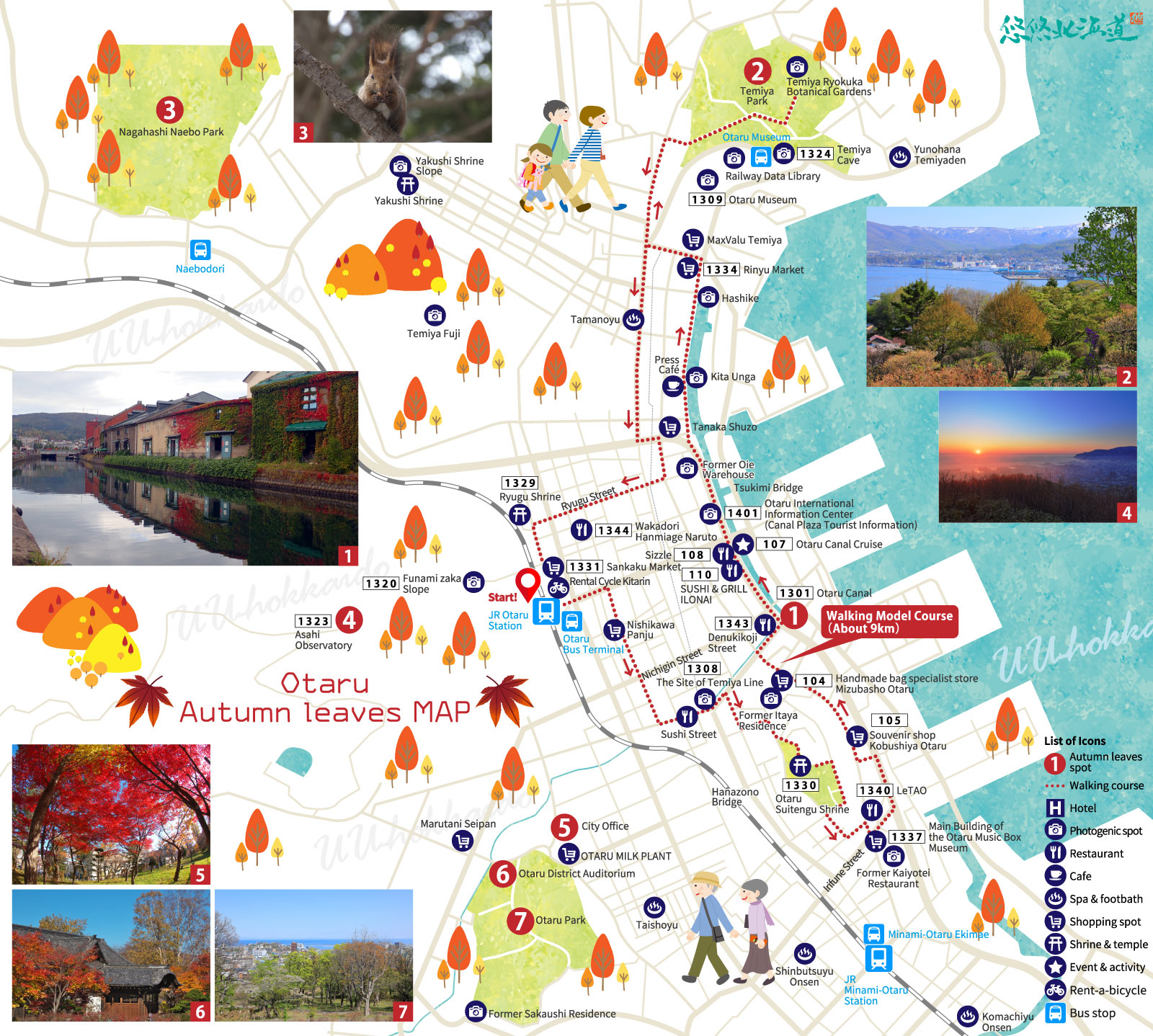 Spots to enjoy the autumn leaves around Otaru
Print out the map and walk a trail!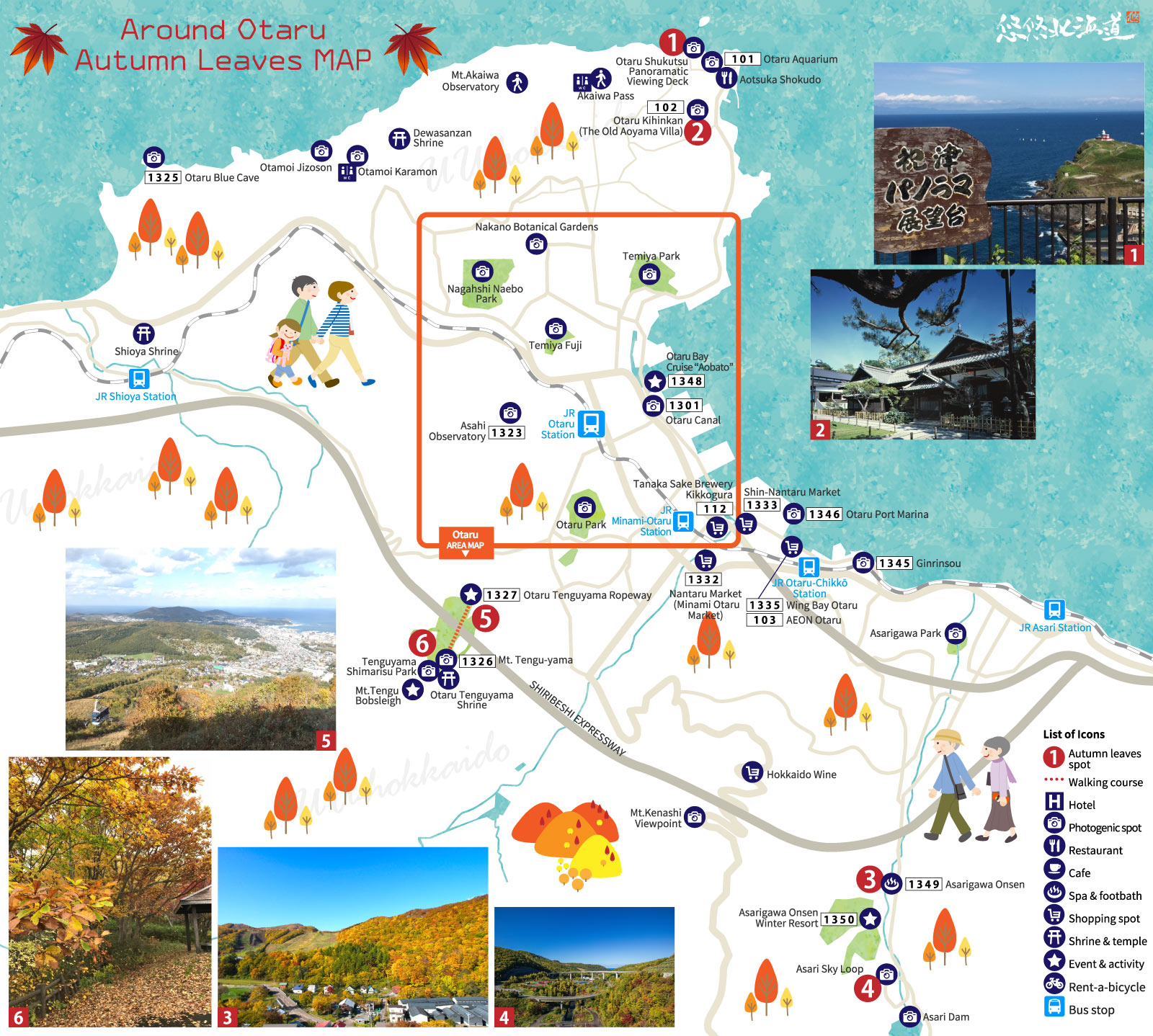 A quick detour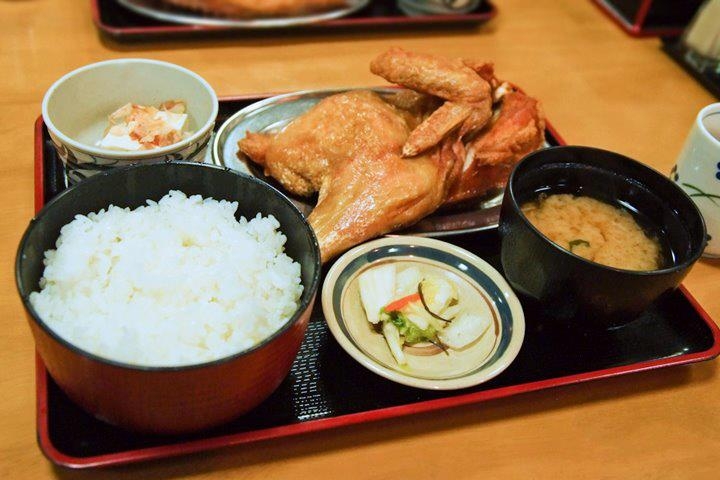 Gourmet specialty of Otaru locals!
Naruto is a long-established restaurant in Otaru famed for its fried chicken. This is one of the originators of fried chicken in Hokkaido. Half of an entire chicken is seasoned with secret spices and then fried to produce a crispy outside and a juicy inside. This dish has remained popular throughout time because it is hearty while the delicious, non-greasy taste stays light even after finishing the whole dish. The fried chicken is available for takeout so it also good to eat while viewing the autumn leaves.
Wakadori Hanmiage Naruto
3-16-13 Inaho, Otaru, Hokkaido(6 min walk from the JR Otaru station)
【 Opening hours 】 11:00 a.m. - 21:00 p.m.
【 TEL 】 +81-134-32-3280 【Official Website】
Recommended day-trip hot springs in Otaru
Access from New Chitose Airport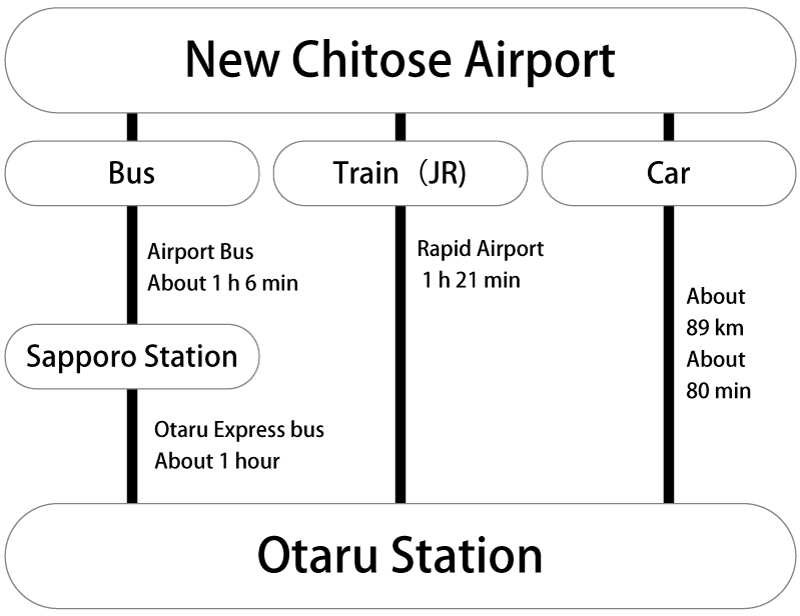 【Bus】
About 1 hr 12 mins from New Chitose Airport to Sapporo Station by limousine bus and then about 1 hour on the express Otaru bus bound for Otaru from Sapporo Station
<Please check the bus timetable>
【Train】
About 1 hr 21 mins from New Chitose Airport on the rapid airport train
<Please check the JR timetable>
【Car】
About 89km (~80 mins) from New Chitose Airport via the Douou (central Hokkaido) Expressway and Sasson Expressway